WHAT'S NEW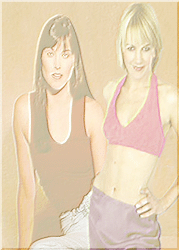 Ummm...Yummy (VBG)
April 2, 2002 - Well it's official now. 'Irrefutable Evidence' is set for tentative publication December 2002 from Renaissance Alliance Publishing, Inc. You can read the novel information and author bio at RAP's site. Note: the novel version has changed from the story version that appears here on the site.
March 23, 2002 - It's been a busy three months. Bardcon is taking a lot of time out of my schedule but for those who can attend I'm sure it will be wonderful. As my last updated said I would be bringing copies of 'Contractor for Hire' with me to the convention. This story isn't on a webpage anywhere and can only be found on my egroups list. If anyone would like to get a copy I'd be more than happy to send it along. A publisher is interested in it but nothing is finalized at this time. The price is $16.99 US/ $22.99 CAN with $5.00 shipping so if your interested but can't attend the con please email me and I'll give you instructions for ordering. Also this week my first episode in the season ender arc, called Go West Young Warrior, of the XWPVS has been posted so if you still like Xena fiction<G> then head on over and check it out.
January 14th, 2002 - Happy New Year Everyone!! And what a busy New Year it's been. Where to start? Let's see, I'm organizing BARDCON 2002 in Chicago April 13th and 14th so please click the link and feel free to visit us. After countless people have asked...'Are you bringing your book?' I though maybe I should make one myself since publication time at houses are year if not longer. So I'll be selling copies of my egroups story 'Contractor for Hire' at the Con and here on the site so if you think you'd like a copy please EMAIL ME and let me know so I have an idea of how many to order. Advanced payment isn't necessary but price will be around $12.99-14.99. 'Irrefutable Evidence' has been sent off to the publishers and I'm awaiting word. Oh and before I forget check this out. My Mel and Janice script for the virtual season seven premiering next Monday January 21st. Blitzgal did a great job with this promo so run don't walk over the XWPVS.
November 1st, 2001 - Please read the following note from Steph: The Academy wishes to show our appreciation for the readers. We have been working for a couple of months on an experiment going by the code name Project 31. What does Project 31 stand for? Stop by the What's New Page accessed from http://www.academyofbards.org at the stroke of midnight Eastern Standard Time Halloween morning (that's 11:59pm Oct. 30th folks) to see! Some of the best known and loved bards in the Xenaverse have taken us up on our invitation to participate. It really is an unprecedented group of bards and stories drawn together for a single event. We thank them, and thank you, the readers. We at the Academy do request one thing, please, write the bards and let them know how much you enjoyed their work!- Steph (Yes, yours truly has a story there for your reading pleasure so to check it out click here!)
Also in the News, I've submitted the first set of checks to the Red Cross and hopefully I'll be submitting some more soon. A few folks haven't contacted me in regard to payment so our total will fall a bit shy but we still raised close to $5000 which isn't too shabby. You can check it out on the details in the auction section.
As for fan fiction, I've completed a script for the Virtual Season Seven of Xena located at http://xwpvs.tripod.com/index.htm. No airdate as of yet but perhaps sometime this season. I have been asked to write their arc for this year as well but can't give any more info other than that folks...Sorry but my lips are sealed (VBG). I'm working on a remake of Casablanca with Janice and Mel as part of a project TNovan and I have began tenatively titled 'Classic Xena Movie Theater'.
TNovan and I are also working on a new uber at this time. Some folks who came to the RAP book signing during DragonCon saw me sitting in a corner typing away and asked TN 'Who's that back there?' (LOL) Yes our work on the story I began there that day continues and I hope to have the first draft completed by December - it's titled 'Eye of the Beholder' - and it's gonna be a good one folks. I can feel it (LOL). I also continue work on my rough draft of my uber 'Contractor for Hire' which can be found on my egroups listing. But as for 'regular Xena fan fiction'...nothing on the horizion as of yet...Anyone got any suggestions? I'm open to discuss them (VBG). Just drop me an email at cnwinters@hotmail.com
And since it's my favorite holiday (VBG) hope you and yours had a safe and Happy Halloween!
October 18th, 2001 - It's been awhile since I updated huh folks? Sorry bout that. I've been busing writing, writing and more writing. We also held a Xenite Charity Auction too for the Red Cross that brought in $5200. Not bad for a week or so work. In the coming weeks I'll be putting up a new uber, a Janice and Mel story, a new uber with TNovan and perhaps a few reworks of my other ubers 1971 and Irrefutable Evidence. Until then enjoy the last story in the Bonding of Souls Series called 'Friend Indeed'
June 25th, 2001 - Well I won't give away any spoilers but I have posted both reports in Friend in Need Part One and Friend In Need Part Two. I've also added two Bonding of Souls stories titled Testing Fate and To New Heights. My story for Send in the Clones is a collaborative effort with TNovan which is still in the works but hopefully will be released before too long. As for the ending of Bonding of Souls some of you have asked if I'll address FIN - yes I will. Just not yet (VBG).
June 10th, 2001 - I've been busy, busy, busy. Not that I have anything to post but trust me I've been busy. First order of business. TNovan and I are planning a Xena Send off Party in Columbus, OH. It's set for 5 pm Sunday June 17 and we'll be showing parts One and Two of Friend in Need - the Final Battleground. We're going to have an auction and raffle all going to charity so it should be a great time. For more details email fin2@aol.com but please do it ASAP. We have to give a head count and that's next week!
Next order of business: Subtext reports are up for Soul Possession and A Friend In Need Part 1.
Finally, I've been working on some more Bonding of Souls stories so I should have them posted shortly (shortly meaning sometime this month (VBG).)
May 13, 2001 - Added subtext report for Many Happy Returns.
May 12, 2001 - Okay folks. By request here's the stuff I've tried to catch up on (VBG). I've got the subtext reports for Send in the Clones and When Fates Collide. I don't think I'll be doing one for Last of the Centaurs since there's no subtext. I've also got a new story in the Bonding of Souls series called Heat of Battle.
March 16th, 2001 - As promised...here's the newest story that I've been working on with TNovan. I really liked working with T and we had great fun getting our favorite gals into trouble after trouble with this 'not so little' comedy piece (it's nearly 100 pages long). Anyway, hope you enjoy it. Make sure to feed the bard. TNovan@aol.com or cnwinters@hotmail.com - I'll make sure to send T any letters I get. It's called Henbane, Horsenapping and Other Obstacles.
February 28th, 2001 - Announcement time: Early this week I was approached by an up and coming independent film company to submit a screenplay to them. After talking with them for a couple of hours I'm really excited about the 'slant' they see on movies today (or should I say lack thereof). They are looking for creative work which is something you can't really find in Hollywood these days and it would be great if it turned into something larger. I'm considering another 'uber' which I'm working on as the screenplay - actually it's more of an original fiction story but for Xena fan purposes we'll say uber (VBG). The screenplay deal is now it's in the infant stages...well more like embryo stages . . .Okay perhaps it's just conception (LOL). Anyway, I'm looking forward to putting something together for them and submitting it in the next few weeks. As for Irrefutable Evidence, I've started my search for a publisher so hopefully I'll have news on that in the future as well. But in light of all this I'll still have you all know . . . I will continue to write fan fiction which I absolutely love...hardcore nutball I am (VBG).
February 26th, 2001 - Added Bonding of Souls story Empathy Nest to the Bonding of Souls Page. Small announcement: I have a new story with my bard buddy TNovan that should be released shortly so 'stay tuned' in the next week or so. Until then check out our other tale Something to Talk About.
February 22, 2001 - Added Bonding of Souls story Technical Difficulties to Bonding of Souls Page
February 18, 2001 - Added Subtext Report for To Helicon and Back to Subtext Report Page
February 11, 2001 - Added Subtext Report for Path of Vengeance to Subtext Report page
February 8, 2001 - Added Bonding of Souls story Amazon Queens to Bonding of Souls page.
February 5, 2001 - Added Bonding of Souls story Down Home to Bonding of Souls page.
February 4, 2001 - Added subtext report You Are There to subtext reports page.
January 29th, 2001 - Added subtext report The God You Know and new Bonding of Souls story Catching Up.
January 28th, 2001 - Added Bonding of Souls story - Sleep to Dream to the Bonding of Souls page. Added Subtext Report for 'Old Ares Had A Farm' to the Subtext Reports Page.
If I may I'd like to take a moment to tell those who haven't heard already that my former writing partner Tonya Muir passed away after battling cancer the last few years. When we began work on the uber '1971' she was diagnosed with the disease. I asked her if she wanted to stop working on the project but she was enjoying it and said thanks but no thanks. She'd 'stick it out'. She was a very gifted writer, polishing up my vision of '1971' and I will forever be grateful that I had the chance to know her and work with her. My condolences go out to her parents and her husband. Her talents will be greatly missed.
January 25th, 2001 - Well we finally did it!! Sorcia and I have the new and improved CN Winters site up and running. We have a few minor changes to make here and there but things are shaping up really well. I love the new look and I hope you all enjoy it too. Updates are soon to follow so stay posted and thanks for all the support over the years to all that fans.