---
What's New
---
---
03-26-03 03-27-03 Got a new review for 'One Belief Away' from LesbianWorlds.Com so Check It Out!! And if you decide you'd like to judge for yourself pick up a copy at Baycrest Books.
03-15-02 Signed copies are gone for my novels however you can still purchase them through the orders page from either amazon.com or barnesandnoble.com.
3-3-03 Happy March!! Heads up for those wanting my novel 'One Belief Away' - tonight is the end of the pre-sale discount on signed copies so be sure to head over to http://www.baycrestbooks.com to place your order.
In other news, I'm considering doing a Xena fan fiction since I've watched a few of my old tapes anyway but I'm not sure what I'd like to do. If any of my readers have an idea pass them along and I'll consider them. Thanks.
1-31-03 Had to add this great cover of LL from Lesbian News Magazine.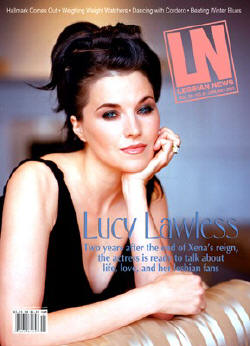 1-24-03 Calli has designed a beautiful cover for us for Conqueroring Heroine. Check it out HERE.
Also added wicked ass pic of cover for 'One Belief Away' to the Orders Page. Check it out and while you're at it feel free to click the link and ahem...buy a copy!
1-21-03 Added new story penned with Amy Wilson (Murphy) titled Conqueroring Heroine
12-27-02 Pleased to announce that One Belief Away is set for publication with Baycrest Books. Check 'em out!!
12-25-02 Merry Christmas Xenites!!
12-22-02 Added brand spankin' new poll. Vote! Vote! Vote! Did I tell you to vote, yet? Vote!!!!
12-21-01 Since someone has asked how to pay for 'Irrefutable Evidence' by check or money order I've added information to the orders page.
12-10-02 - I'm looking at organizing a Xena get together for NW Ohio and Detroit, MI Xenites. If you think you'd like to attend such a meeting which would be held once a month drop me an email. Thanks!
12-8-02 - Updated Book Orders page with links to order 'Irrefutable Evidence' my forthcoming book from RAP Books. It's set for publication in February and will be shipping within 30 days. If we can't make the deadline for 'reasons beyond our control' (which I highly doubt will happen) we'll contact you to see if you'd like to cancel or hold your order. As I said I don't foresee a problem but those pesky FTC people have their rules so this way it's been clearly stated<G>. If you'd like to order it as a Christmas gift for that special lady (or fella - let's not be sexist now<G>) who loves lesbian romance/adventure novels then drop me a line after you order. For those that request it, I'll be sending out a certificate that you can give them to open before the 'genuine article' arrives in February.
11-25-02 - Welcome to the new Tales of Romance page. Well, it's not NEW really. It just looks new. For the grand opening I have a new story 'Watching and Waiting' uploaded to the alternative stories page. Yes I know it's been a year and a half since I've written a story on my own. Hope you enjoy it. This site should be up and running so if you find any dead links please let me know at cnwinters@hotmail.com Thanks!!


Quote of the Day provided by Tom's Xena Page
---
CN's Tales of Romance©. All Rights Reserved. Photos created by CN Winters unless otherwise noted. Use with permission only. Thanks!

---
You are Xenite to visit CN's Tales of Romance since November 25th, 2002
Get a GoStats hit counter